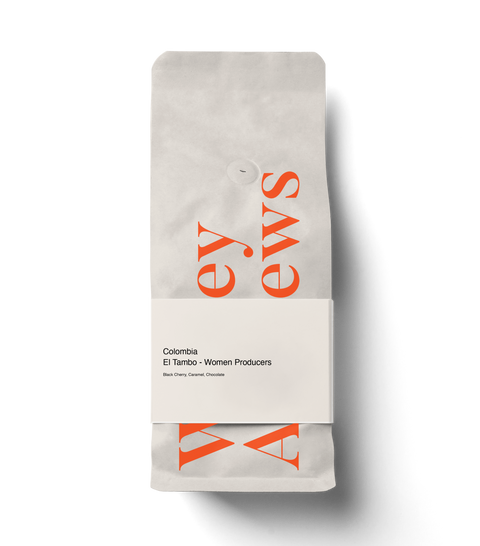 Colombia El Tambo Decaf | Women Producers
Pickup currently unavailable
Good decaf does exist, and this decaffeinated field blend from AMACA is no exception. In the cup we taste rich, candy-like chocolate (think chocolate syrup) along with a creamy caramel body and citrusy orange zest notes.
About AMACA
AMACA (Asociación de Mujeres Productoras Agropecuarias del Cauca) is a group of women producers located in El Tambo, Cauca, Colombia, formed in 1999 by 80 women from El Tambo in Colombia's Cauca department. Now AMACA has grown to 140 smallholder members: all of them female farm owners and heads of household—and the coffees they produce are fantastic. The members derive their livelihoods and support for their families through the cultivation and production of coffee. In 2008, AMACA partnered with the Ministry of Agriculture, the governor of Cauca, and the municipality of El Tambo to increase the production and quality of coffee on 80 members' farms. In 2010, the organization Social Action supplied 22 farms with new wet mills and processing tanks. Today, 140 active members from three different villages across the El Tambo municipality make up AMACA, with an average farm size of 1 hectare (5,000 trees) per member.
About this Field Blend
This is a field blend is comprised of the two common grown varieties in Colombia: Castillo, V. Colombia, Both Castillo and V. Colombia are Catimor hybrids, which give them high disease resistance.