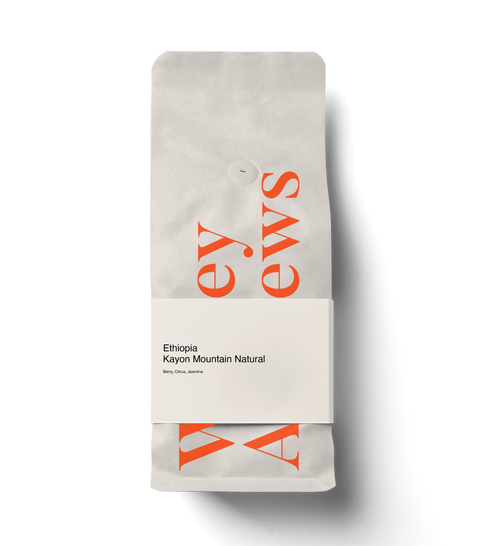 Ethiopia Kayon Mountain Natural
Pickup currently unavailable
This is our fourth year purchasing from the Kayon Mountain Coffee farm in Guji. They produce naturally processed coffees whose crisp, clean flavors get us excited in the Roastery each and every year. In the cup we find a rich and creamy cocoa texture, an airy acidity of berry citrus, and intense jasmine florals. 

About Kayon Mountain 
The Kayon Mountain Coffee Farm is 500 hectares, with around 300 of those hectares dedicated to coffee plants. The whole place has been owned and operated by Ismael Hassen Aredo and his family since 2012. It's located 510 kilometers south of Addis Ababa, and the property crosses the border of two villages—Taro and Sewana—located in the Oromia region, in the Guji zone of the Shakiso district of Ethiopia.
Ismael oversees a staff of 25 permanent, full-time employees, and 300 seasonal ones. The farm management offers free transportation services as well as financial support to building projects in the community—everything from schools to administration buildings. The farm competes with a nearby mining village for seasonal workers, so Ismael and his family tend to pay higher wages to their pickers in order to incentivize their return year after year.
About the Variety
7410 and 7412 are coffee berry disease resistant varieties selected by the JARC (Jimma Agricultural Research Center) in 1974 and 1975. Due to their consistency in flavor and (as their name suggests) disease resistance, this bean is one of the most propagated varieties in all of Ethiopia. For learning more about Ethiopian varieties and how they came to be, we recommend checking out A Reference Guide to Ethiopian Coffee Varieties.
Transparency
Importer: Cafe Imports
Relationship: 5 years

Price:  $4.98/lb

C-market Price: $1.50
Fair-trade minimum: $1.60
Shipping cost: 0
Amount purchased:  1,322 lbs