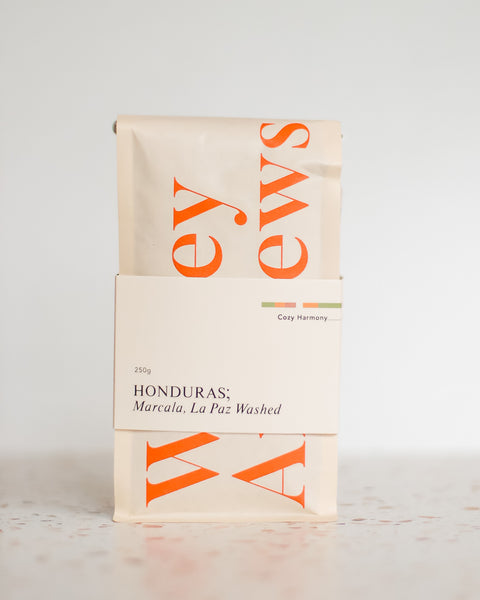 Honduras Marcala, La Paz Icatu
Pickup currently unavailable
This cozy coffee sneaks it's complex flavors under it's rich mouthfeel. For fans of sweet and savory. We taste herbed butter, peach, and apple.
Variety: Icatu
Elevation: 1500-1650m
Region: Marcala, La Paz
Harvest: Spring 2023
Method: Washed
About The Farm
Las Huertas is a farm that is run by Carlos Amaya. The first thing we noticed about Carlos is how young he is! Carlos took over his family farm a little while ago and has been doing an amazing job of keeping up the family traditions as well as elevating the coffee to the next level. It is very inspiring to see what Carlos is doing as it has become increasingly rare to see young family members taking over their family's farms as parents age out of it. The low price of commodity coffee pricing can make it very discouraging for people in these regions to want to take over a business that they see as not very profitable. Carlos is showing us that there is a future for coffee farms to maintain their deep rooted history while also finding ways to continuously improve the quality. We think you'll find his passion for coffee is very evident in the final flavors.
About Icatu
Icatu is a hybrid coffee cultivar developed in Brazil by crossing Arabica and Robusta coffee plants. This interbreeding aimed to create a coffee variety that inherited the disease resistance of Robusta while retaining the desirable flavor characteristics of Arabica. The result is a unique coffee bean that showcases a blend of the delicate, nuanced flavors associated with Arabica and the full bodied qualities of Robusta.
In terms of flavor, Icatu coffee often exhibits a balanced profile, with hints of acidity, sweetness, and a fuller body. The hybrid nature of Icatu allows it to capture the best of both parent varieties, offering a distinctive taste experience to coffee enthusiasts. Furthermore, its potential for high yields adds to its appeal for coffee farmers seeking productivity without compromising on quality.
Transparency
Importer: Cima Café
Relationship: First Offering
Price: $7.47/lb
C market Price: $1.73
Fair-trade minimum: $1.80
Shipping cost: .24/lb
Amount Purchased:  335 lbs