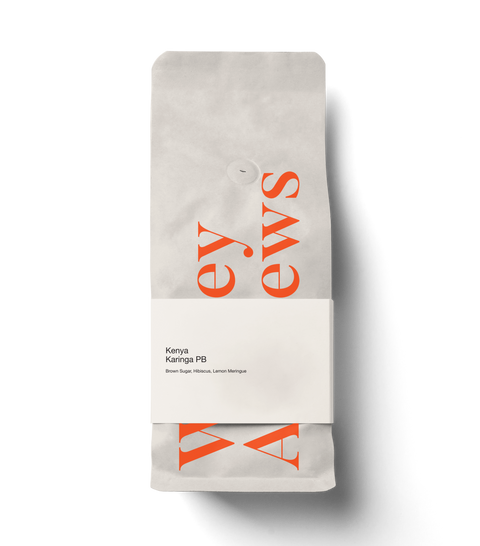 Kenya Karinga PB
Pickup currently unavailable
This Peaberry offering from Kiambu county hits all the marks for us: it's juicy, densely sweet, and has a sparkling acidity on the tail-end. In the cup we taste brown sugar, hibiscus, and lemon meringue.

About Long Miles Coffee
Ben and Kristy Carlson moved to Burundi in 2011 and saw that both injustice and poor farming practices permeated the country's newly privatized coffee industry. They also saw roasters around the world having a difficult time getting consistently great coffees from Burundi. In an effort to see positive change in both farmers' and roasters' lives, Long Miles Coffee was born. Fast forward to today and Long Miles has put Burundi coffee on the map while also expanding their efforts into Kenya. During this year's coffee season (which has seen low harvests for coffee growers around the country), they collected and processed a small volume of cherries from thirty partner coffee farmers living around Thunguri Coffee Factory, modelling the production process of their micro-lots in Burundi. While the inaugural harvest season in Kenya may seem low, building trust within a new community takes time, and Long Miles is committed to listening, learning from, and getting to know the communities of coffee farming families in the region.
About Karinga
Founded in 1983, the five-acre Karinga coffee factory consists of just six permanent staff members, with other hands coming to help with labor during times of great harvest. Though the local district of Thika is traditionally known for tea, the Karinga facility produces high quality coffees there as part of the Gitwe Farmers Cooperative, a company of 500+ active members. The factory siphons water from the nearby Rwabura River for their pulping processes, and employs several water recycling methods to maintain the local riverbed's health. With global awareness of coffee farming's environmental impacts on the rise, the Karinga factory is working hard to produce fruitful harvests in reciprocity with the local landscape.

Transparency
Importer: Long Miles Coffee / Osito
Relationship: 3 years

Price: $5.45/lb

C market Price: $1.57
Fair-trade minimum: $1.60
Shipping cost: .30/lb
Amount Purchased:  793.6 lbs